The Book of Kimm
Reuben Kenneth Kimm - thirteenth child of Jacob Kimm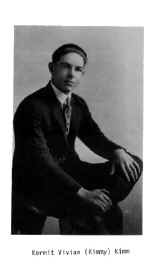 1 8.13 Reuben Kenneth Kimm3 b 12 Oct 1902 Pine City Wash son of Jacob Kimm2 and Sarah Margaret Laughery Davis d 27 July 1979 m 16 June 1929 St John Wash Elma Wagner b 4 Feb 1902 St John Wash dau of Herbert Edgar Wagner and Florence White d Oct 1982
Children Kimm
1.8.13.1 Baby died at birth 1932
1.8.13.2 Elma Jean Kimm4 b 13 Oct 1934 St John Wash
1.8.13.3 Kenneth Herbert Kimm4 b 12 Oct 1936 d 17 Mar 1956
Reuben Kenneth was a farmer and lived at Pine City, Washington. Reuben Kenneth played piano for local dance bands in Palouse County for many years. His son, Kenneth Herbert, Roy Sides (husband of Elma Jean), and two friends died in a boating accident at Rock Lake near St. John, Washington.
1.8.13.2 Elma Jean Kimm4 b 13 Oct 1934 St John Wash dau of Reuben Kenneth Kimm3 and Elma Wagner m (1) 4 Feb 1956 Couer d'Alene Id Roy Sides b 27 Mar 1934 d 17 Mar 1956 (2) 3 Aug 1957 Spokane Wash George Donald Edwards b 12 Apr 1927 Kellogg Id son of George Anderson Edwards and Hazel Roberta Reedy
Children Edwards
1.8.13.2.1 Justin Dale Edwards5 b 28 July 1959
1.8.13.2.2 Steven Grant Edwards5 b 22 Apr 1962
1.8.13.2.3 Barbara Jean Edward5 b 5 Aug 1970 d 5 Aug 1970
Elma Jean is a teacher in the lower elementary grades. She has done most of the research on the Jacob Kimm family.
1.8.13.2.1 Justin Dale Edwards5 b 28 July 1959 Tacoma Wash son of George Donald Edwards and Elma Jean Kimm Sides4 m 10 Oct 1981 Puyallup Wash Bonnie Frances Butler b 26 Nov 1963 dau of Edward and Kathy Butler
1.8.13.2.2 Steven Grant Edwards5 b 22 Apr 1962 m Laura Butler 15 Nov 1986
Children Edwards
1.8.13.2.2.1 Randle Grant b 4 Feb 1996
1.8.13.2.2.2 Kaitlin Jean b 1 Jun 1998
Navigation: Home || Jacob Conrad || Leonhart || Henry || Silas || Justus || Jacob || Mary || Martin