The Book of Kimm
Silas Kimm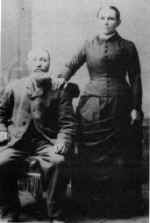 1.6 Silas Kimm2 b 11 Nov 1536 village of Sand, province of Hesse Kassel, Germany d 13 Oct 1928 Fairfax Linn Co Ia bur Raetz Cem Lot 54 near Atkins Ia m 15 Jan 1866 Marion Linn Co Ia Katharina Engel b 3 Dec 1843 Bahlingen Germany dau of George Engel and Anna Emmaline Kohl d 3 Oct 1931 Norway Denton Co Ia bur Raetz Cem Row 8 Lot 12 near Atkins Ia
Children Kimm born Norway Benton Co Ia
1.6.1 Henry Winfield3 b 7 July 1868
1.6.2 Louis Wilhelm (William)3 b 27 Dec 1869 d 27 Sept 1870 bur Raetz Cem
1.6.3 Anna Elizabeth3 b 2 July 1871
1.6.4 Mary Salome3 b 10 Aug 1873
1.6.5 Infant3 b 1875 d 1875
1.6.6 Louisa Marie3 b 8 Mar 1877
1.6.7 Carolyn Mabel3 b 20 Apr 1879
1.6.8 William Silas3 b 15 June 1881
1.6.9 Matilda Dora3 b 20 Jan 1884
1.6.10 Edward Leonard3 b 20 Feb 1886
1.6.11 Infant3 b 1888 d 1888
From a letter written by Silas' daughter, Louisa Kimm Nelson:
"Silas, Alice and Justus immigrated to America. Silas 17 yrs, Alice 22 yrs, and Justus 14 yrs. They went to Utica, New York, where their sister lived. Silas worked on a dairy farm at $13 a month and when his friends, the Spellerburgs, came to Iowa he came with them. He worked for Jessie Brown who lived 1-1/2 miles from the farm he later bought. He worked there for a year. He then married Katharina Engel. Her parents lived on a farm near Shellsburg Ia. Silas was 5' 1" tall. He was educated in Germany and would have taught school if he would have stayed in Germany. He taught some of the lower grades as an assistant teacher. He bought his first 40 acres for $7 an acre. Later he acquired another 120 acres, adding another 120 later on until he had acquired 240 acres in one parcel.
The relatives that came to America in those days sailed the ocean in sailboats. It took my parents, Silas and Katharina, three months to cross the Atlantic. They had to take along their own food. They bought their drinking water for 5 cents a glass. My mother, Katharina, related that they had a barrel of dried noodles as one item of food. All my father's brothers and sisters served in the Civil War. My father wasn't drafted as his parents were old and needed him to care for them, otherwise he would have served too."
From a letter from Eleanor Kimm:
"Silas was the first one in the area to own a Model T Ford but he never learned to drive it, but let his son William drive him around in it. Grandmother Kimm told me how the Indians used to camp in their orchard. They would come to the door and beg for food.

She showed me the scars on her arms that were from the Indians hitting her."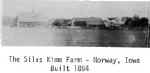 From a letter by Esther and Line Tow who were neighbors to Silas Kimm and
Asahel and Caroline Kimm Ward:
"Mr. Silas Kimm was the wealthiest man in Florence Twp. during WWI (1918) when he was compelled to buy more liberty bonds than anyone in the township. Buying liberty bonds was compulsory at that time according to one's assets. When Silas' estate was settled, it had dwindled extensively due to loans to his children.
Years ago, dances were held in the country homes where the young people danced in the kitchen. My parents often attended dances held at the Silas Kimm farm where the parlor was always kept locked. It was customary that each man dance with every lady present. At midnight when the fiddlers played "Home Sweet Home" each man danced with the lady he came with or the lady he expected to take home.
At a farewell picnic for the Haughlin family, my girl friend and I had so much fun that day watching Silas. He was wearing patent leather shoes that he bought at the Fair Store in Cedar Rapids for $2.98 and ever so often, he would dust them off with his white hanky."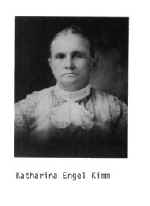 A recipe that Katharina brought over from Baden, Germany:
Rhubarb Cake
2-1/2 cups flour
2 cups sugar
1/2 cup shortening
3 eggs
3 tsp. baking powder
1 tsp. vanilla
1 cup milk
3 cups rhubarb, cut up and floured
Sift dry ingredients into shortening. Work together with hands or a pastry blender. Add liquid and eggs, and beat until smooth. Last, add floured rhubarb. Bake in well greased and floured cake pan at 375 degrees. Heat can be reduced to 350 degrees after cake is browned and partly done.
Katharina's Will (in part):
"Personal property to Anna, Mary, Louise, and Caroline, share and share alike except that Matilda is to have 2 sheets and two comforters that Elenora Kimm, dau of William, is to have the china closet. (Elenora Kimm never received it.)
Navigation: Home || Jacob Conrad || Leonhart || Henry || Silas || Justus || Jacob || Mary || Martin