The Book of Kimm
Anna Elizabeth Kimm - third child of Silas
1.6.3 Anna Elizabeth Kimm3 dau of Silas Kimm2 and Katharina Engel b 2 July 1871 Norway Ia d 28 June 1958 Waterloo Ia bur Iroquois S Dak m 5 Feb 1901 Walford Ia Frank Marion Smith b 5 Feb 1874 Kansas d 3 Mar 1946 Iroquois S Dak bur Iroquois S Dak son of Benjamin Franklin Smith and Jane Janette Smith
Children Smith
1.6.3.1 Elsie Katharine Smith4 b 2 June 1902 Rossie Clay Co Ia d 11 Dec 1918 Brookings S Dak bur Iroquois S Dak
1.6.3.2 Forrest Edward Smith4 b 16 Jan 1907 Rossie Clay Co Ia
Written by Forrest Smith, son of Frank and Anna Smith:
"Frank Marion Smith met and courted Anna at Norway, Ia using a horse and buggy as transportation. They were married 5 Feb 1901 at the bride's home near Norway, Ia. They soon moved to Clay Co., Ia. to make a living at farming. Their two children were born there. In 1908 Frank was encouraged by land promoters to seek cheaper land at far less taxes in South Dakota. He went there and bought a 160 acre farm in Beadle Co., S Dak. He joined other land buyers to charter a combination box car and stock car freight train to transport his farm machinery and stock. The family rode in the stock car. It was hard, back-breaking farming. They worked long hours; the only power being themselves and one horse. In 1911 the drought cane with no crops. With potatoes and milk from the few cows they owned, they managed to feed the family and they lived through that terrible winter. This farm was bought with money borrowed from Anna's father, Silas. For several years Frank had to borrow money just to pay the interest. Elsie, their second child, died from influenza
Jim Smith graduated from Drake and is now buyer and assistant manager of Worlds of Fun in Kansas City. Wends is a receptionist-secretary for an orthodontist.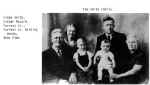 1.6.3.2.4 Marilyn Kay Smith5, (Kaye) b 13 May 1943 Waterloo Ia dau of Forrest Smith4 and Esther Rausch m 22 May 1965 Des Moines Ia Victor Jess Sanchez b 3 May 1941 Iowa City Iowa son of Manuel Sanchez and Patricia Castro
Children Sanchez b Des Moines Ia
1.6.3.2.4.1 Kevin Joseph6 b 10 Feb 1966
1.6.3.2.4.2 David Michael6 b 27 May 1968
Marilyn graduated from Young's School of Beauty in Waterloo and worked for a time at that profession. She is now manager and buyer for the Mark-It Store in Des Moines and the Silas Kimm historian. Vic works for Hydrocarbon Transportation, Inc.
Navigation: Home || Jacob Conrad || Leonhart || Henry || Silas || Justus || Jacob || Mary || Martin