The Book of Kimm
Louisa Marie Kimm - sixth child of Silas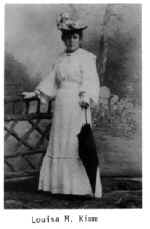 1.6.6 Louisa Marie Kimm3 b 8 Mar 1877 sixth child of Silas Kimm2 and Katharina Engel d 9 Apr 1978 Cincinnati Hamilton Co Ohio m John Edward Nelson b 14 Jan 1877 Marengo Ia d 24 Jan 1956 son of Andrew Nelson and Anna Pehrson bur Arlington Memorial Gardens Cincinnati Ohio
Children Nelson
1.6.6.1 Lloyd Wilbur4 b 28 Apr 1900 Briton Day Co S Dak
1.6.6.2 Norma Ann4 b 20 July 1903 Briton Day Co S Dak
1.6.6.3 Kenneth Gordon4 b 7 Feb 1904 Briton Day Co S Dak
1.6.6.4 Laughlin Gorman4 b 7 Feb 1904 Briton Day Co S Dak
1.6.6.5 Perry Raymond4 b 1 Aug 1905 Briton Day Co S Dak
1.6.6.6 John Myrl4 b 8 Mar 1908 Langford Marshall Co S Dak
1.6.6.7 Wade Palmer4 b 17 Oct 1909 Wilmont Roberts Co S Dak
1.6.6.8 Glen Allen4 b 15 May 1911 Wilmont Roberts Co S Dak
1.6.6.9 Verna Bernice4 b 6 Aug 1912 Wilmont Roberts Co S Dak
Louisa Marie Kimm lived to be 101 years old.
1.6.6.1 Lloyd Wilbur Nelson4 b 28 Apr 1900 Briton S Dak son of John Nelson and Louisa Kimm3 m Oct 1922 Goldie Ann Dennis b 18 July 1894 Spencer Ia
Child Nelson
1.6.6.1.1 Helen Lucille5
Lloyd Nelson was a salesman for H&N Chevrolet and a member of the Masonic Lodge Shrine and Commandery.
1.6.6.1.1 Helen Lucille Nelson5 dau Lloyd Nelson4 and Goldie Ann Dennis m Stinehardt. She preceded her father in death.
1.6 6.2 Norma Ann Nelson4 b 20 July 1903 Briton S Dak dau of John Nelson and Louisa Kimm3 m 24 Oct 1922 Spirit Lake Ia Morris M Morgan b 17 Mar 1894 Spencer Ia
Child Morgan
1.6.6.2.1 Jacquelyn Ann5 b 19 Feb 1926 Spencer Ia
1.6.6.2.1 Jacquelyn Ann Morgan5 b 19 Feb 1926 Spencer Ia dau of Morris Morgan and Norma Anna Nelson4 m 1948 Arthur Wallace Baumann son of Emil G Baumann and Ida Schultze b 29 Apr 1923 Plainview Neb
Children Baumann
1.6.6.2.1.1 Douglas Morgan6 b 23 Aug 1948 Spencer Ia
1.6.6.2.1.2 Burke Brian6 b 4 Aug 1952 Spencer Ia
1.6.6.2.1.3 Lisa Beth6 b 27 Mar 1955 Spencer Ia
1.6.6.2.1.4 Kent Morris6 b 21 Oct 1965 Scottsdale Maricopa AZ
1.6.6.2.1.1 Douglas Morgan6 b 23 Aug 1948 Spencer Ia son of Arthur Baumann and Jacquelyn Nelson5 m Ann Katherine Stewart
1.6.6.3 Kenneth Gordon Nelson4 b 7 Feb 1904 Briton S Dak son of John Edward Nelson and Louisa Kimm3 m 1929 Olive Ferdon
1.6.6.4 Laugillin Gorman4 b 7 Feb 1904 Briton S Dak son of John Nelson and Louisa Nelson3 m 1924 Florence Weiss
Child Nelson
1.6.6.4.1 Linn Gordon5 b 3 July 1925 New York City NY
1.6.6.4.1 Linn Gordon Nelson5 b 3 July 1925 son of Laughlin Nelson4 and Florence Weiss In Martha Killebrew b 24 Mar 1930 Kirkey Kentucky dau Taz Killebrew and Goldie Chapman
Children Nelson
1.6.6.4.1.1 Mark Elliot6 b 21 Nov 1953 Highland Park Mich
1.6.6.4.1.2 Paul Gordon6 b b 21 Dec 1956 Highland Park Mich
1.6.6.4.1.3 Karen Louise6 b 19 Jan 1957 Pontiac Mich
1.6.6.5 Perry Raymond Nelson4 b 1 Aug 1905 Briton S Dak son of John Nelson and Louisa Kimm3 m 24 Aug 1928 Royal Oak Mich Marie Lane b 6 July 1903 Chicago
Children Nelson
1.6.6.5.1 Shirley Marie5 b 95 Nov 1929 Chicago Ill
1.6.6.5.2 Marlene Bernadine5 b 14 Jan 1939
1.6.6.5.1 Shirley Marie Nelson4 b 9 Nov 1929 Chicago Ill dau of Perry Nelson4 and Marie Lane m 13 Oct 1951 Chicago III William Frances Anderson b 20 June 1922 Chicago Ill son of Per Nimrod Anderson and Myrtle Foster
Children Anderson b Chicago Ill
1.6.6.5.1.1 Cara Marie6 b 15 Mar 1953
1.6.6.5.1.2 Linda Anne6 b 7 Feb 1954
1.6.6.5.1.3 William Christopher6 b 11 Mar 1959
1.6.6.5.1.1 Cara Marie Anderson6 b 15 Mar 1953 Chicago Ill dau of William Anderson and Shirley Nelson5 m 16 Mar 1974 Allen Bruce Parker b 9 Jan 1951 New Orleans son of Allen Brown Parker and Elise Puckett
1.6.6.5.1.2 Linda Anne Anderson6 b 7 Feb 1954 Chicago Ill dau of William Anderson and Shirley Nelson5 m 14 Oct 1972 Park Forest Ill Vincent Paul Henrisey b 23 Sept 1944 Marteno Ill son of Paul John Henrisey and Bernice LeSage
1.6.6.5.2 Marlene Bernadine Nelson5 b 14 Jan 1939 dau of Ferry Raymond Nelson4 and Marie Lane m 30 Nov 1966 Acapulco Mex Richard Avalos b 21 Nov 1933 Chicago Ill son of Ruben Avalos and Angela Velazquez
Child Avalos
1.6.6.5.2.1 Richard Steven6 b 17 Sept 1968 Chicago Ill

1.6.6.6 John Myrl Nelson4 b 8 Mar 1908 Langford S Dak son of John Nelson and Louisa Kimm3 m Bettye Lewis b 1901 Oklahoma
No children
1.6.6.7 Wade Palmer Nelson4 b 17 Oct 1909 Wilmont S Dak son of John Nelson and Louisa Kimm3 m (1) 16 Feb 1934 Emmetsburg Ia Zelma Marine Williamson b 18 Apr 1912 Streator Ill d 21 Apr 1980 bur Albuquerque NM No children (2) 5 Jan 1981 Orange CA Cleo Dorothy Wardell
1.6.6.8 Glen Allen Nelson4 b 15 May 1911 Wilmont S Dak son of John Nelson and Louisa Kimm3 m Virginia B Thompson (Ginny) b 21 Nov 1916 Hartford Co Maryland
No children
1.6.6.9 Verna Bernice Nelson4 b 6 Aug 1912 Wilmont S Dak dau of John Nelson and Louisa Kimm3 m 20 Apr 1938 Le Mars Ia Harold B Moon b 5 June 1907 Whiting Iowa son of Francis Moon and Lily Schurdevin
Children Moon b Cincinnati Ohio
1.6.6.9.1 Monte Munro5 b 24 Feb 1938
1.6.6.9.2 Mary Louise5 b 17 Jan 1943
1.6.6.9.3 Margaret Ann5 b 7 Aug 1944
1.6.6.9.1 Monte Munro Moon5 b 24 Feb 1938 Cincinnati Ohio son of Harold Moon and Verna Nelson4 m 23 Apr 1960 Kay M Tolson
1.6.6.9.2 Mary Louise Moon5 b 17 Jan 1943 Cincinnati Ohio dau of Harold Moon and Verna Nelson4 m 22 Sept 1962 Cincinnati Ohio Steven Mullinger b 3 June 1942 Cincinnati Ohio son of Edward J Mullinger and Violet Mae Grueneberg
Children Mullinger
1.6.6.9.2.1 Stephen Douglas6 b 18 Dec 1965 Cincinnati Ohio
1.6.6.9.2.2 Daniel Joseph6 b 6 Jan 1968 Batesville Ripley Co Ind
1.6.6.9.2.3 Michael Edward6 b 23 July 1969 Columbus Bartholomew Co Ind
1.6.6.9.3 Margaret Ann Moon5 b 7 Aug 1944 Cincinnati Ohio dau of Harold Moon and Verna Nelson4 m 13 Aug 1966 William Jo Egan b 21 Aug 1940 Cincinnati Ohio son of William Jo Egan Sr and Veronica Kaufhold
Children Egan b Flint Genesee Co Mich
1.6.6.9.3.1 Deborah Lynn6 b 21 May 1967
1.6.6.9.3.2 Daniel Joseph6 h 3 July 1969
1.6.6.9.3.3 Douglas William6 b 28 June 1971
Navigation: Home || Jacob Conrad || Leonhart || Henry || Silas || Justus || Jacob || Mary || Martin